NEW RELEASE - out December 2019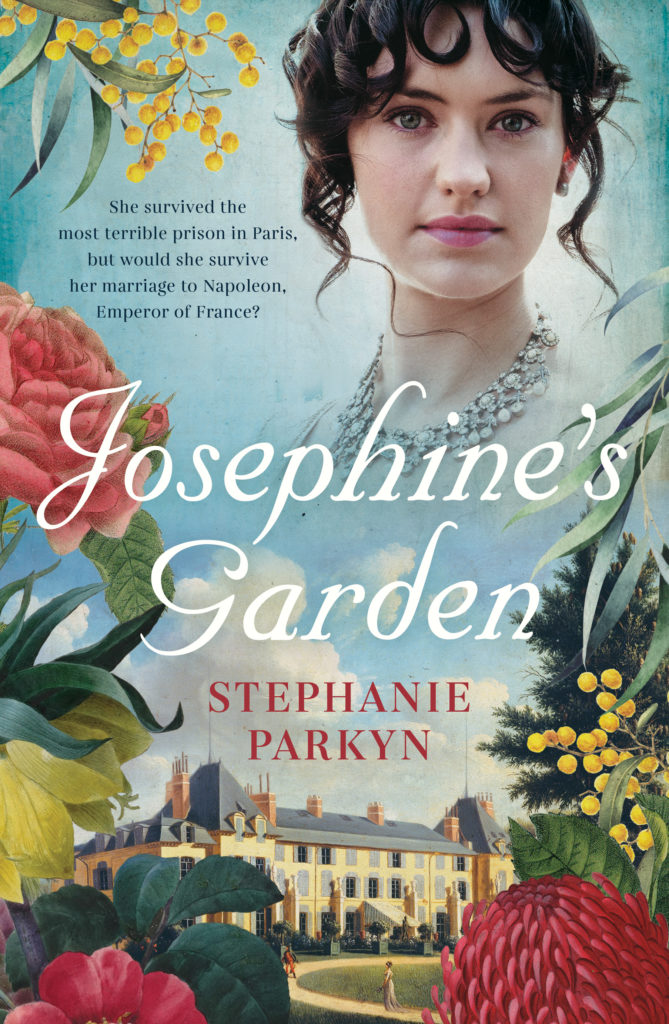 France, 1794. In the aftermath of the bloody end to the French Revolution, Rose de Beauharnais stumbles from prison on the day she is to be guillotined. Within a decade, she'll transform into the scandalous socialite who marries Napoleon Bonaparte, become Empress Josephine of France and build a garden of wonders with plants and animals she gathers from across the globe. But she must give Bonaparte an heir or she risks losing everything.
The lives of two other women from very different spheres are tied to the fate of the Empress Josephine. Marthe Desfriches has been widowed twice and is desperate to have a child as she enters a loveless marriage with an adversary of Josephine who despises her botanical ambitions. Anne Serreaux longs for a large family when she marries the man who becomes chief gardener for the Empress tasked with germinating the first Tasmanian blue gums in Europe. Each of these women faces obstacles in their relationships and in their quest to become mothers - experiencing trauma that will put all their lives at risk.
From the author of Into the World comes a richly imagined historical novel about obsession, love and marriage, and, ultimately, finding the courage to let go.
'Stephanie Parkyn is one very talented storyteller.' Mrs B's Book Reviews
Abandoned by her lover and fleeing the wrath of her family, Marie-Louise must make a desperate choice. Find a man or become one.
Inspired by a true story, Into the World is a compelling novel of Marie-Louise Girardin's extraordinary voyage to Australia and the South Pacific disguised as a man. Set in the age of scientific enlightenment and against the turmoil of the French Revolution, Marie-Louise escapes France seeking independence, but suffers grief and guilt for the baby she leaves behind. She encounters perilous oceans, exotic lands, and unforeseen loves on a journey to reclaim her child.
This is a novel about freedom and the power of stepping into the unknown.
Longlisted for the Tasmanian Premier's Literary Awards, Tasmania Book Prize 2019
Into the World is published by Allen & Unwin and is available in Australia and New Zealand where all good books are sold. Purchase online with these links: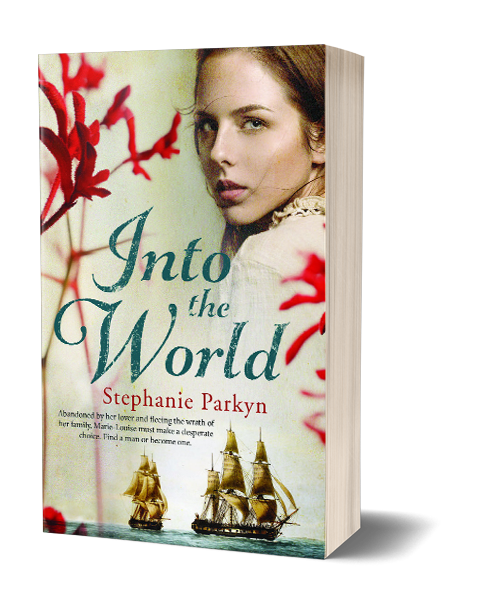 Praise for Into the World
'Enthralling novel, rich in historical detail…Highly recommended.' Good Reading 
"In this stunning debut, Parkyn takes her readers on a journey from the gardens of Versailles to the rugged coast of Van Diemen's Land...The tale is full of lush detail but the plot remains compelling...immersive, adventurous and full of heart." Where the Books Go
"Into the World is a rare beast - a swashbuckling adventure featuring a strong heroine set in the Age of Discovery. It's a hell of a story brought to live with page-turning pace."  The Sydney Morning Herald.
"Triumphant all-round storytelling." Australian Womens Weekly
"Stephanie Parkyn writes like a poet, her prose is spare and beautiful..I was reminded of the experience of reading The Rose Grower by Michelle De Kretser."  E.A. Gleeson author of Small Acts of Purpose and In Between the Dancing.
"A fascinating slice of history...rich evocation of the period...a must-read." Latitude Magazine
"Stephanie Parkyn is one very talented storyteller...I was completely invested in this historical adventure...Friendship, loyalty and love all have a place to bear in Into the World...I am eagerly awaiting what Parkyn will explore next." Mrs B's Book Reviews
"One of the strengths of this well written novel is the development of the characters...the scientists, captains and crewmates all fleshed out and given voices... The story is told from Girardin's point of view which offers a rare historical perspective from a woman." The Mercury, TasWeekends
"...an incredible story that I was hard pressed to put down each night. Girardin's observations of the journey and the places they encountered elevated this novel to a unique height. Stephanie Parkyn offers an exciting new voice...I am so looking forward to reading more from her in the future." Theresa Smith Writes
"..Shakespearean adventure of one courageous woman, Marie-Louise Girardin, on her journey to reclaim her child." State Cinema Bookshop, Hobart
"...refreshing to read a novel where the central female character isn't driven by romantic love, but rather, the love for her son." The Book Muse
"As a translator of French voyagers for the Alexander Turnbull Library and a devourer of 18th-century French history I was eager to see how [Parkyn] would treat d'Entrecasteaux's endeavours and it was fascinating to share them through Marie-Louise's vivid experiences. A gripping and gritty story." Cheryl Sawyer – author of La Créole
Get notified when Stephanie publishes new works.